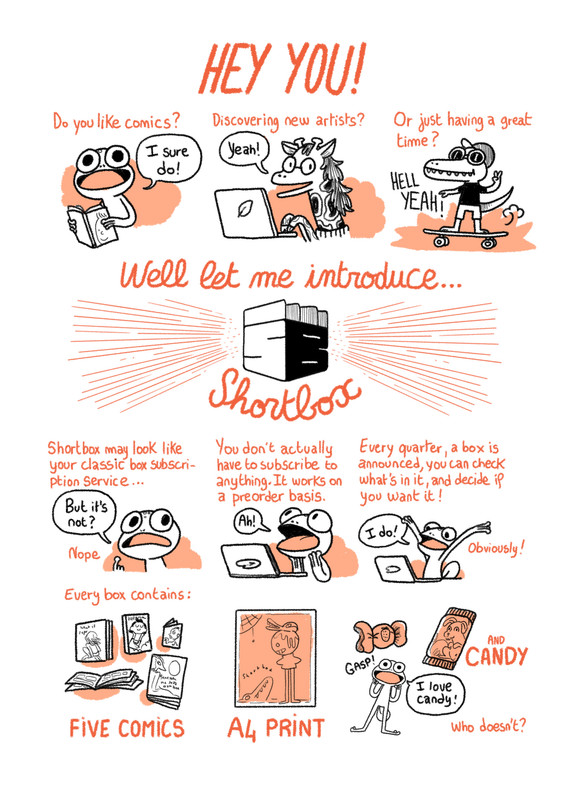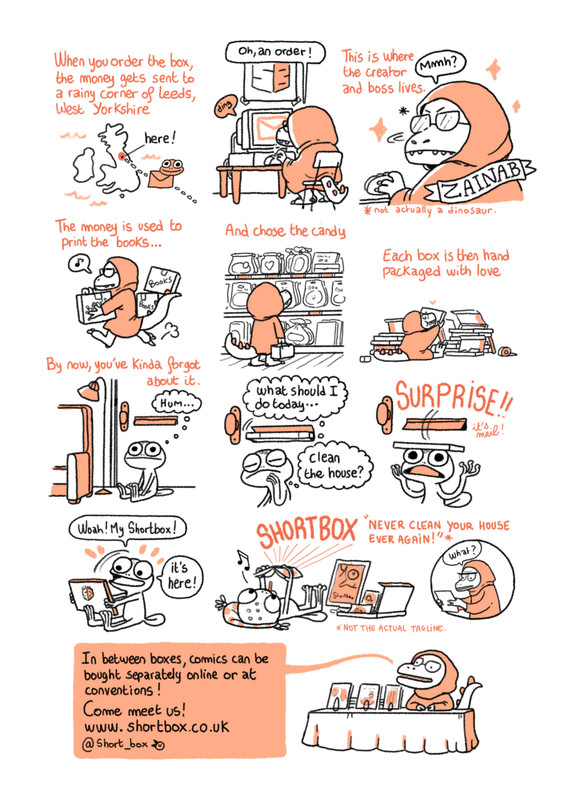 What is ShortBox?
ShortBox is a quarterly, independent comics box- with a unique difference: we publish all our own comics. With each box, you're getting brand new work from a specifically curated range of contemporary, international cartoonists and artists.
Created by Zainab Akhtar, ShortBox was borne from our love of receiving bookish post- namely, the excitement of comics mail! That thunk on the doormat... However, despite there being a variety of comic 'boxes' available, none featured the type of comics we'd like to see: the self-published, small press and independent comics that continue to invigorate the medium and keep us passionately invested. What we wanted was a quarterly comics box heavy on the comics (no T-shirts, key-rings, or Funko Pops) that allowed the customer to see exactly what they were getting for their money.
Intrinsically, the ShortBox sensibility is simply to publish fresh, interesting work, and to spotlight excellent artists around the world.

Is it a subscription? Can I sign up for it?

ShortBox is not a subscription service- there's no signing up. It's a quarterly, mail-order box that goes up for sale for a 12-day period every 3 months. The sale listing details authors, book titles, covers, short blurbs and interior snippets of everything the box will include. You can follow us on Twitter, Instagram, and Facebook, where we'll keep you up to date with box releases.
What's inside the box?

Each box contains 5 comic books, at least one extra item, and some sweets! Extra items range from exclusive prints, art zines, limited edition pins, and so forth.
Is it a blind box?

No. We've worked very hard to put the box together and are champing at the bit to share it all with you. Everything that's inside the box will be detailed and pictured on the sale listing: we really believe in what we publish and want to show it off!
Is the box themed?
The theme is quality.
Is there any way I can get ShortBox books outside of the box?
Yes. We have a webshop where you can browse and buy a selection of our titles and products individually. However, not everything that is published in the box will be available singly at a later point. We're a small, independent endeavour putting out 20 books a year. Printing large quantities of every title isn't financially viable for us. This means we have to select which comics we're able to give a bigger print to, and these are the books that go on individual sale.
The benefit of getting a box is that you *will* get everything we put out, you get it first, and it works out significantly cheaper than buying the books individually. We also exhibit at a number of comics and arts festivals throughout the year, where you can buy from us in person.